The Jones unicrown fork has clearance for 29 X 2.55, 29+(3) and 26 X 4.8 fat tires.
The fork is compatible with 135mm front hubs such as the Jones 135-F or Paul WHUB. These hubs have very wide flange spacing that allow for a very stiff and strong front wheel. Not compatible with 135mm rear hubs or front hubs with rear hub specs.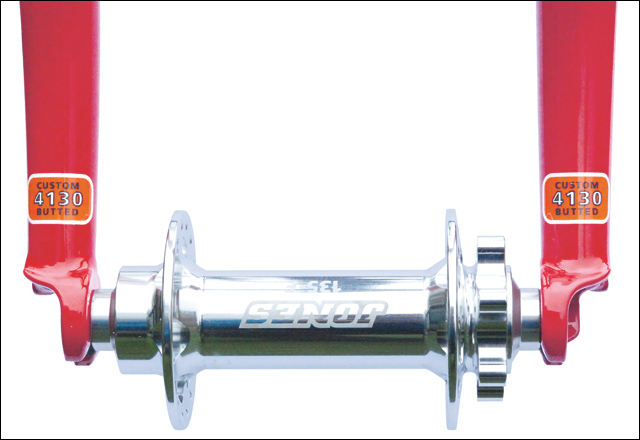 Compatible with standard 1-1/8" headset
The fork steerer tube (300mm long) is now a one piece machined 4130 cromoly tube. It is machined with varying wall thickness and a built-in crown race. This is not a stock steerer tube or just a piece of straight gauge tubing. Previously (and with many forks) the crown race element is a sleeve welded or brazed on to a straight gauge 1 1/8" tube. My new steerer starts out as a very thick 4130 tube and is then turned/machined down to my specifications with a thin (walled) upper section that tapers to a thicker section down where the lower headset is and where forks need more stiffness and strength. The crown race support (for a 1 1/8 headset) is also machined into the tube. The steerer tapers perfectly to provide a thicker, stronger section for the crown race and (crucially) the bottom section of the steerer (where the fork blades are welded on) is left at a larger diameter with greater wall thickness this delivers additional strength at the very part of the fork where forces are greatest when youre riding. It costs more to make but its way better.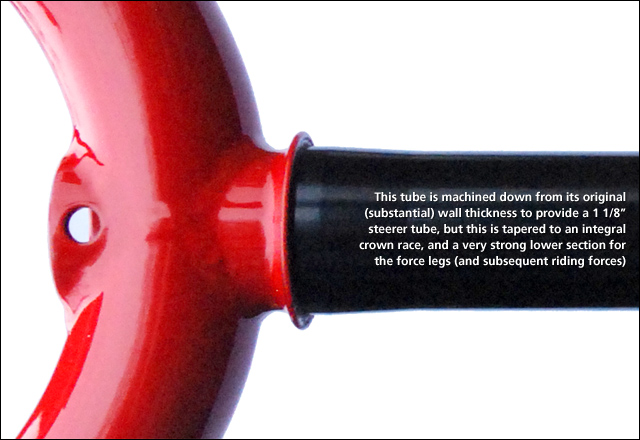 The fork blades are custom butted. Fork tubing was previously only available in certain wall thickness and it wasnt ideal for rugged off-road, fat wheel riding but this new tubing is unique to the Jones forks and is butted to my specifications. The wall thickness is greater at the top, thinner partway down and then thick again at the drop-outs and brake mounting. It is, overall, a little heavier than before (as the legs and steerer tube are more substantial) but it rides much better less fork chatter and stronger. And because the fork is rigid specific, it is not longer (heavier and weaker) than necessary like rigid suspension corrected forks are. The (135mm) wide Jones front hub stiffens up the front end and can provide the foundation for a very strong wheel. The dropouts are new they are CNCed 4130 cromoly and very much considered in three dimensions. There is less material in several places where it could be reduced without compromising function. They have a really big area for welding the fork legs to much stronger than before.
The welds are excellent, very smooth with perfect penetration the same people build the steel unicrown forks also build my Titanium frames. The cable guides are brazed on this is a process with a much lower temperature than TIG welding and does not melt or warp the steel tubes and creates a very strong connection. This is particularly good as the guides are mostly at points on the tube where the wall thickness is thin from butting.