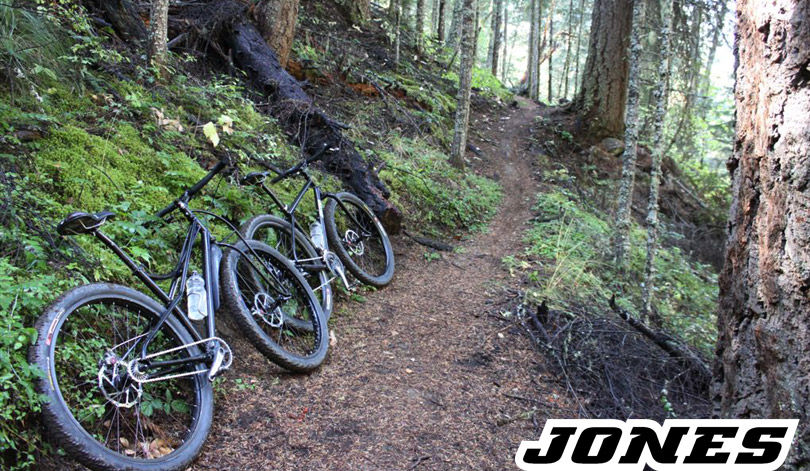 Framesets – Jones 29 and Jones Plus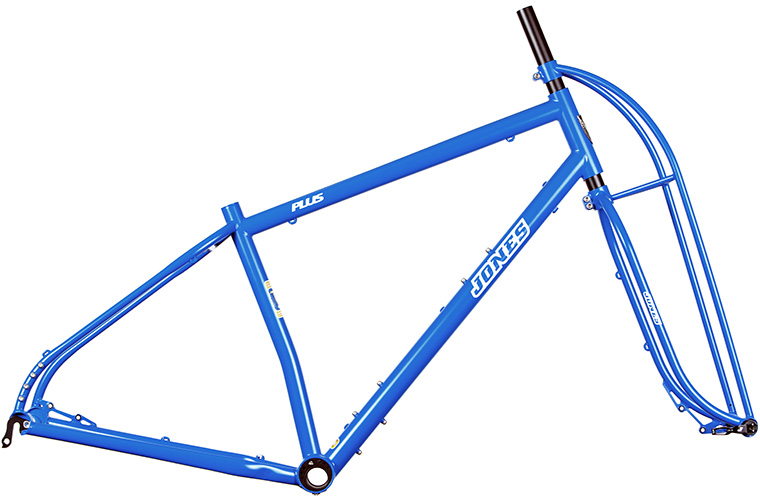 Jones Bicycles are all about the ride. About comfort and control and excellent handling – the rider and machine as one whether it's mile after mile of touring / bikepacking or dissecting the trickest of technical trails. Jeff's geometry is such that the switch from gentle riding to fast and furious (and in-control) is only a matter of rider choice and the terrain. A Jones is a delighfully capable bicycle. The Jones 29 and the Jones Plus differ in where they start on the line that stretches from comfort to technical. The Plus, with its larger (29+ /29x3") tire capabilities, long wheelbase and very own version of Jones Geometry lends itself to smooth, comfortable, assured riding (on and off-road) – rolling over and along trails and paved road – while the 29 is the racier, zippier, more-nimble version, sacrificing a little comfort and stability for amazing handling in the trickiest of technical situations. In Venn Diagram terms the two models do overlap enormously though. They both offer great handling and all-day-long comfort across a huge range of cycling possibilities. Both can handle the most testing trails. Because the bicycle, the geometry, the ride is the thing a Jones is about then whatever you ask it to do, in bicycle terms, it's ready. It shines.

A Jeff Jones designed frame and fork provides an exceptional handling bike. Taking the 29" wheelsize these bikes will suit a rider looking for an extremely capable, assured, sweet-riding, unsuspended bike – there are 3D SpaceFrame versions in titanium and steel and the traditional Diamond frame in steel. The 29 frames come in a size 23". The Plus comes in both 24" and 25" Effective Top Tube sizes – the 24 is equivalent to the 23" Jones 29. The framesets can be bought as a complete bike, rolling chassis or frameset; geared, singlespeed – for dirt or road riding.
All Jones bicycle orders will be carefully considered and discussed with each individual customer. All have options and extras available.
---
Titanium Spaceframe and Truss fork
This is, currently, as good as it gets. The titanium Spaceframe and Truss fork deliver the rigid bicycle that is anything but. Laterally stiff to deliver the power with a vertical compliance that softens the ride? Yes, but this is only the icing on the cake. The Jones geometry ensures the best handling bike there is. It really does need to be ridden to appreciate it. Titanium, used here, provides strength, stiffness and compliance in a light, durable bike. The Jones geometry makes it all worthwhile.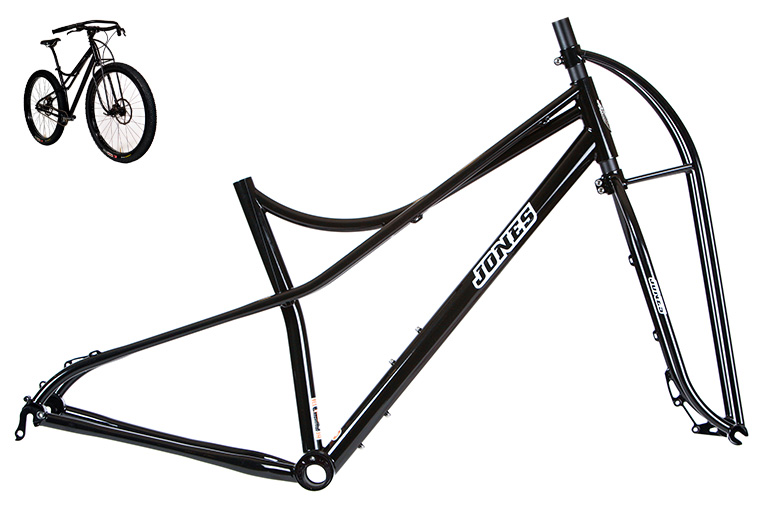 Steel Spaceframe and Truss fork
Steel frames have the same geometry, clearances, features, gearing options, handling and balance points as the titanium frames but at a lower cost, heavier weight and a different feel. The ride is similar to the ti frame (it has the Jones geometry after all) but it is different. It does feel vertically stiffer compared to the titanium Spaceframe but it's a very good, solid feel. It's steel and steel is good. Note: headset shown is available, but not included in the frameset price.
The steel Spaceframe and Truss fork produces a ride that is stiffer than the titanium version but smoother than the Diamond steel model (below). The tubes used can be smaller than the Ti version as steel is stiffer and this then allows the flex to be carefully managed to deliver efficiency and comfort.
Construction: The frame is TIG welded 4130 chromoly with a butted down tube. The cable guides and bottle bosses are brazed on. The fork is all 4130. The frame and fork are ED black and then powder coated for a durable finish.

Titanium Diamond frame (above, and below)
It doesn't have the compliance/stiffness features of a Spaceframe version (although the downtube creates a very robust frame) but it's lighter and has a larger frame pack capacity. It is available with the Jones Ti Truss fork or the steel Jones unicrown fork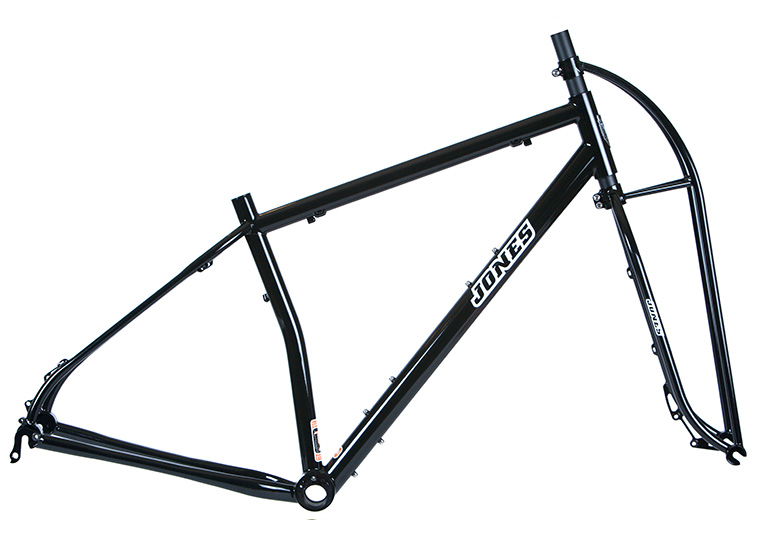 Steel Diamond frameset and Jones Truss fork
This is the Jones geometry (and superb handling) as a traditional diamond frame. This, being easier to build, costs less than the Spaceframe version, and while it doesn't offer the same compliance, the seat and seat stay tube dimensions have been carefully selected to both improve ride and reduce the weight. What you do get here is a steel version of the incredible Jones Truss fork delivering superb steering, and braking, performance with a feel that is hard to describe and needs really to be experienced. Note: headset shown (is available, but) not included in the frameset price.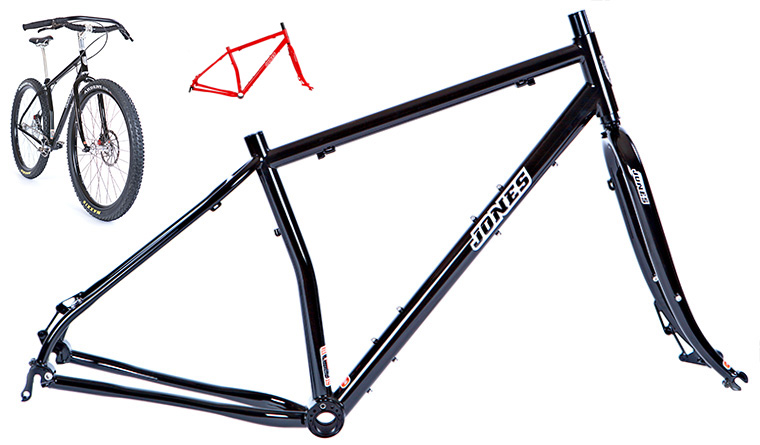 Steel Diamond frameset and Jones fork
This is the Jones geometry (and superb handling) as a traditional diamond frame. This, being easier to build, costs less than the Spaceframe version, and while it doesn't offer the same compliance, the seat and seat stay tube dimensions have been carefully selected to both improve the ride and reduce the weight.
Construction: The frame is TIG welded 4130 chromoly with a butted down tube. The cable guides and bottle bosses are brazed on. The latest versions (above) have a clear powder coating, over the decals, on top of the tough powder coat paint finish for appropriately rugged good looks. A full range of frame-fitting bags are available for bikepacking and touring capabilities and the 4130 Cro-Mo Unicrown forks have custom mounts for the Tubus Duo low-rider racks.
Steel spaceframe and diamond frames are also available with a titanium Truss fork option...



The Forks
The forks all have clearance for 29x2.55", 29 x 3" (29+) and 26 x 4.7" fat tires. Fork spacing is for a 135mm front hub which allows for a very stiff and strong front wheel. The forks are not compatible with rear 135mm hubs.
Why this bike?
It's a high performance non-suspension bicycle... instead of designing the bike for XC-racing like so many unsuspended bikes I wanted this bike to be better for technical and distance riding... Since this bike is not designed around a suspension fork I'm able to do much more to improve the handling. By designing the frame and fork together and considering the larger wheels I'm able to make a bike that rides very differently to a 'normal' rigid bike (be it 26 or 29er) with a short rake fork.


My bike has a slacker seat-tube and a shorter top-tube than 'normal' bikes... the head angle and rake with this wheel size (more rake, slacker head-tube-angle and bigger wheel) determines the trail which helps determine the handling. Slacker angles keep the rider's weight off the hands and makes the front end easy to lift; the center of gravity is moved back and down for more control, with less shock to the upper body, more traction under braking, and a bike that is much harder to endo. This bike feels quick but also has a laid back feel. It's the best handling bike I've designed.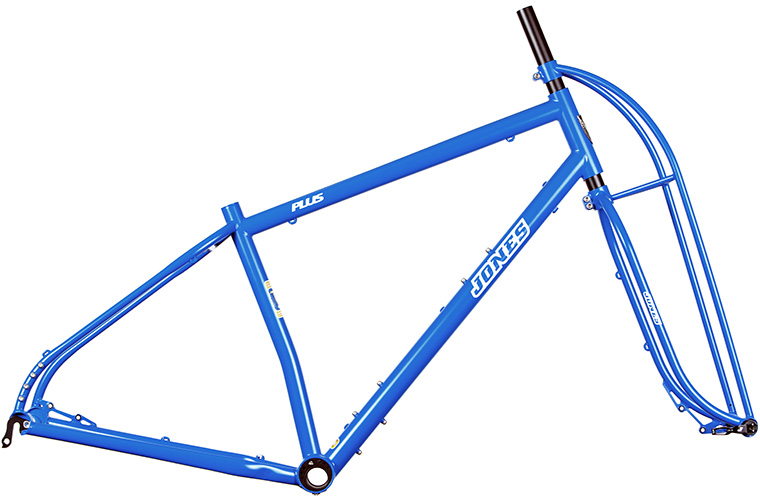 Jones Plus
People might try and simplify it – "it's just a long wheelbase Jones with 29+ tires" but it isn't. It's so much more. It is NOT slow handling. I've done so much work to make it still ride the way I want a bike to ride. Hours of geometry drawings and thinking. Notes and testing. This is really even more of a 'rigid specific geometry' for a ride that is much more comfortable and stable yet still with very quick handling. It is balanced in a way you wouldn't expect. It's big but feels right. You ride very much in this bike. There's no roughness, no "I'm gonna crash" sensation or fears. It's just smooth! And it climbs. If you stand there's no wheelie. It's planted. It delivers excellent traction and a huge sweetspot (and I don't mean the tire contact area – I'm talking about the big space for the rider to move around (in the bike) and still have their position, the grip and the power transfer working for them).
The Jones Plus is a bike for riding fast, slow, the rough with the smooth; safely, aggressively, laid-back or raging; with a big load or stripped to the bare essentials; on road, dirt, mud, snow; in the mountains, on the flat lands, around town or across the county; around the world or your local loop; for getting rad or just getting away. It sets a new standard for bikepacking yes, but it's so much more than that – it's a bike for technical trails and big trips. It really does it all. I'm really excited by this bike. It's good.
• Unique Jones Geometry specifically for this frameset – frame and forks designed as one.
• EBB geometry adjustment accommodates rider/tire/use choices
• Steel Diamond frame and Truss fork
• 4130 cromo (custom-butted top and down tubes)
• Excellent clearance for 29+ tires (10mm+ clearance either side with a 29+ tire – with 29er tire you can get a palm in between the tire and stays).
• Ample chainring/stay clearance
• Huge frame pack capacity (Jones bikepacking bags available).
• TIG welded – brazed on cable guides, bottle, rack and fender bosses.
• Multiple rear rack and fender mounts for the best rack/fender/tire size fit (extra bosses allow you to have the rack at a height to suit the tires/wheels) so very versatile and accommodating of different equipment and different set-ups.
• Jones Truss fork – comfortable, precise handling, no brake stutter.
• 135/142mm thru-axle front hub for more front wheel stiffness and strength.
• Fork accommodates 29, 29+ and 26 x 4.8" tires
There is a very detailed blog post about this bike.
---

Prices our store has the prices for framesets
---

Weights and Specifications
Frame weights (with hanger, bolts and EBB)
lbs
grams
Titanium 29 Spaceframe
4.78
2170g
Titanium 29 Diamond frame
4.57lbs
2076g
Steel 29 Spaceframe

6.70lbs
3040g
Steel 29 Diamond frame
5.67lbs
2573g
Steel PLUS (Diamond) frame (24")

5.97lbs
2705g
Fork weights
lbs
grams
Ti Truss fork (for Jones 29 – with bolts and aluminum steerer tube)
1.87lbs
850g
Steel Truss fork (for Jones 29 – with bolts and aluminum steerer tube)
2.64lbs
1200g
Steel Jones unicrown (for Jones 29 – with 300mm steerer tube)
2.90lbs
1316g
Steel Truss fork (for 24" Jones PLUS – with bolts and uncut aluminum steerer tube. Thru-Axle weighs 100g)
2.84lbs
1290g

Jones 29 (not Plus) details;
• The Forks are compatible with 135mm front hubs – the Jones 135-F is recommended.
• BB is 68mm wide
• Frames include a Bushnell featherweight EBB, one derailleur hanger, one singlespeed dropout insert and bolts.
• Fork bolts, bottle bolts and the hanger nut and bolt are all stainless steel.
• Truss forks include an aluminum steerer tube.
• The Truss fork does not use a normal 'press on' crown race - information about the headset options.
• The Jones unicrown fork uses standard 1-1/8" headset.
• Seat post size is 27.2mm
• Seat post clamp size for steel is 31.8-32mm
• Seat post clamp size for titanium is 35mm
• Rear tire clearance up to a 29 x 2.5" on a 50mm wide rim.
• The Effective Top Tube of current frames is 23" (but there's more to it than that)


How to buy:

Please contact us to check what framesets are currently in stock, or visit the store to buy one. There are also Jones dealers in the USA (and more coming) – the Dealers page lists them (and elsewhere in the world) so do please check to see if there's one for you.

If you are in the UK (or Europe) then do email biff@yesweareontheweb.com – there's a page at http://www.yesweareontheweb.com/jones/ with more information. He's able to sort Jones products that side of the Atlantic – framesets, H-bars, hubs and headsets. There are five dealers in the UK, one in The Netherlands, one in Italy and one in Germany all ready to provide anything from a set of H-bars to complete bikes.