H-Bars®
These bars may look unconventional but the bottom line is that they flat out provide better handling and more comfort than a traditional bar. Better hand and body positions ensure more power, comfort and control. They come in titanium, carbon and aluminium versions. All H-bars are for a 31.8mm stem. There are three types of H-bar: Loop, Cut and Bend...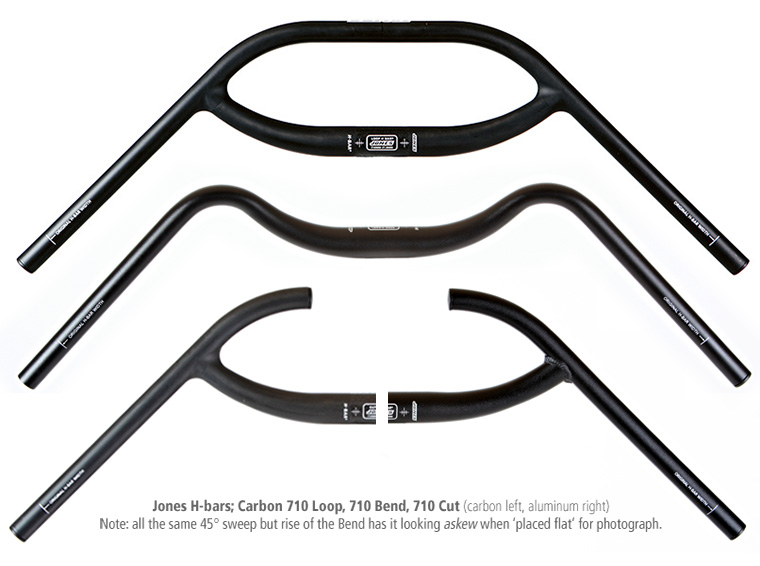 "The handlebars several hand positions, accentuated with pre-installed cork grips and bar-tape, were so natural and comfortable that I wonder how people ever put up with conventional straight, flat bars." Karen Brooks – Dirt Rag



"One of the hottest items in the touring world is the H-Bar." Topanga Creek Bicycles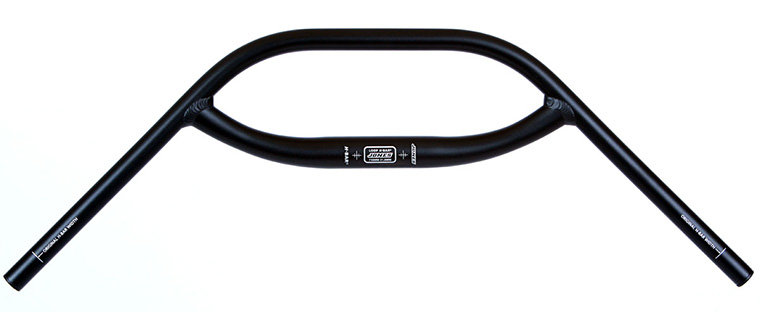 710 Loop H-Bar® Titanium (bright hand-brushed), Carbon (UD matt black), Aluminum (anodized black or silver)
The Loop H-Bar has the same hand, stem and brake lever position as my original H-Bar but the cross bar sweeps forward to allow the levers to go behind the cross bar instead of in front. This gives longer uninterrupted hand positions and allows shifters to fit on the rearward extensions. The continuous front loop of the bar enhances stiffness and is good for additional aero hand positions and mounting bags, lights, GPS devices etc. Comfort and power and an impressive weight. With the levers in the optimum position the rider is superbly placed for fast riding while still enjoying all the hand positions available. The rearward extensions allow extra leverage and a wider hand position – be it for comfort or power. Aluminium and titanium tubing is tapered and butted to add strength and save weight.
---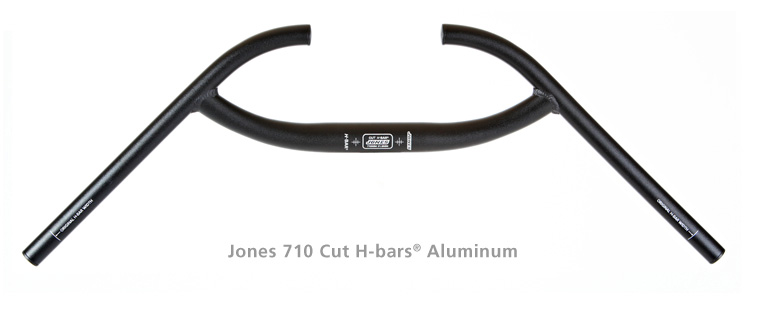 Cut 710 H-Bar® Carbon (UD matt black), Aluminum (anodized black or silver)
The Cut H-Bar is the same as the Loop H-Bar but with the front section of bar cut out. While this reduces the hand positions and bag/accessory carrying options and there's a tiny reduction in overall stiffness many people prefer the (slightly more) conventional look and it does allow (non-hinged) shifters and levers to go in front of the cross bar if that is what you want. 710 Cut H-bars have trim marks (if you wish to cut them down to 660mm) and stem centering guides.
---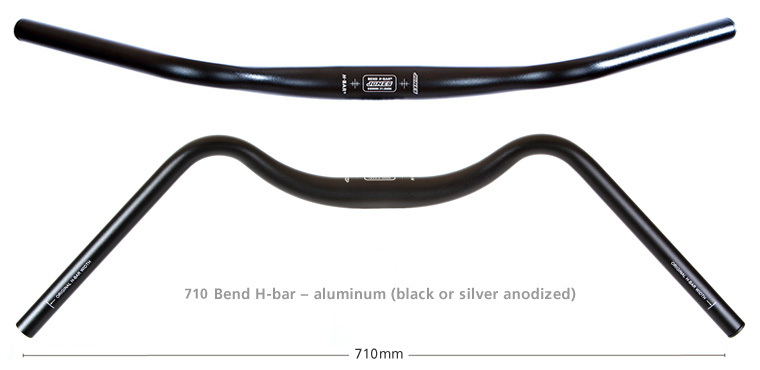 710 Bend H-Bar® Aluminum (black or silver anodized)
This new H-Bar is a return to the essence of the original H-bar. All my bars are H-bars. H-bar for Handle-Bar. They have the 45° sweep, the 0.5" vertical offset, and a multitude of hand-positions. But could I offer more, with less? Yes. Back to basics, back to the beginning, with a twist. Well, with a bend – the Bend H-bar. The original concept, the 45° sweep but the bend, where it is, ensures shifters and levers are a simple fit and the one piece butted aluminium construction delivers a bar 166g lighter than an aluminium Loop. Less hand position options, less stuff-mounting space, marginally less stiff but all you might ever need in an H-bar. No more, no less. The Jones Bend H-bar. They are available now.
For urban and touring bikes (and for smaller riders) the 660 Bend H-bar is also available (The 710mm Bend H-bars are laser etched with the trim marks to cut them down to 660mm if you wish).
---

Better handling and power output
The shape of the bar really allows you to throw the bike around in technical situations. With your hands in the wide and rearward grip position you can keep your weight back and your arm stance wide for stable and controlled technical or steep downhill riding. This position is just like having a wide bar with a short stem, similar to a downhill or dirt jumping bike, but with more sweep. This additional sweep brings your arms in closer to your side to allow more comfortable and natural use of your arm and back muscles. The sweep also allows you to push and swing the bike side to side with more control and power. It's especially beneficial when climbing.
These bars allow you to really get up on top of the pedals and grind out low cadence standing power for climbing in hard gears which is why the bar is so popular with single speeders. Your hands pull more towards your shoulders, a more natural 'pull' with stronger muscles. This allows you to push down with more force at the pedal. In extremely tight turns with the bar close to 90 degrees your outside arm and wrist is not taken to the edge of their flexible range as with traditional bars. This provides more control and stability on switch backs.
More comfortable and ergonomic
The sweep matches your natural hand and wrist positions creating a stronger hand and body position. With an H-Bar, your weight is evenly distributed across the width of your hand instead of being focused at the out side edge of your hand, the main cause of finger numbness. This 'even grip pressure' on the bar allows a better, more secure grip on the bar. This is especially nice if you chose to ride a fully rigid bike. The many and varied hand positions greatly reduce hand numbness and wrist pain. The H-Bar also reduces back pain since it has a range of hand positions from rear to front. This range allows you to move around and stretch your back. This is a bar you can ride all day.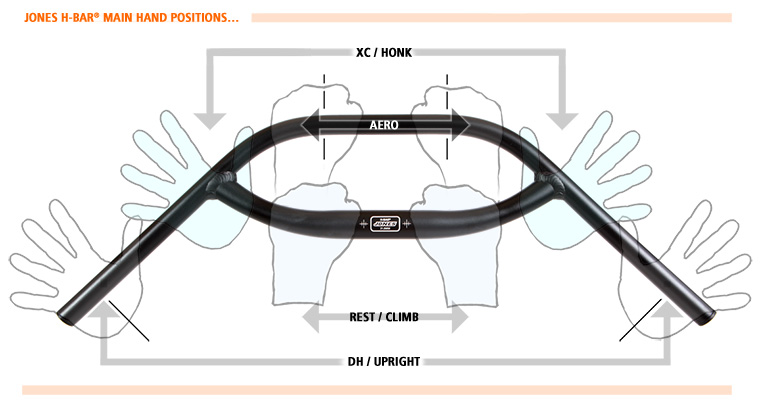 Get further back or further forward.
With up to five inches of 'rear to front' hand position range you can really shift your weight back for steep downs or move to the front to keep the front wheel down for steep seated climbs.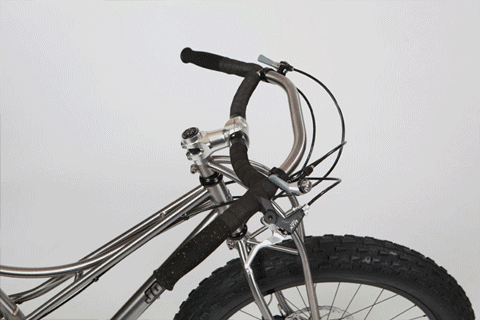 ---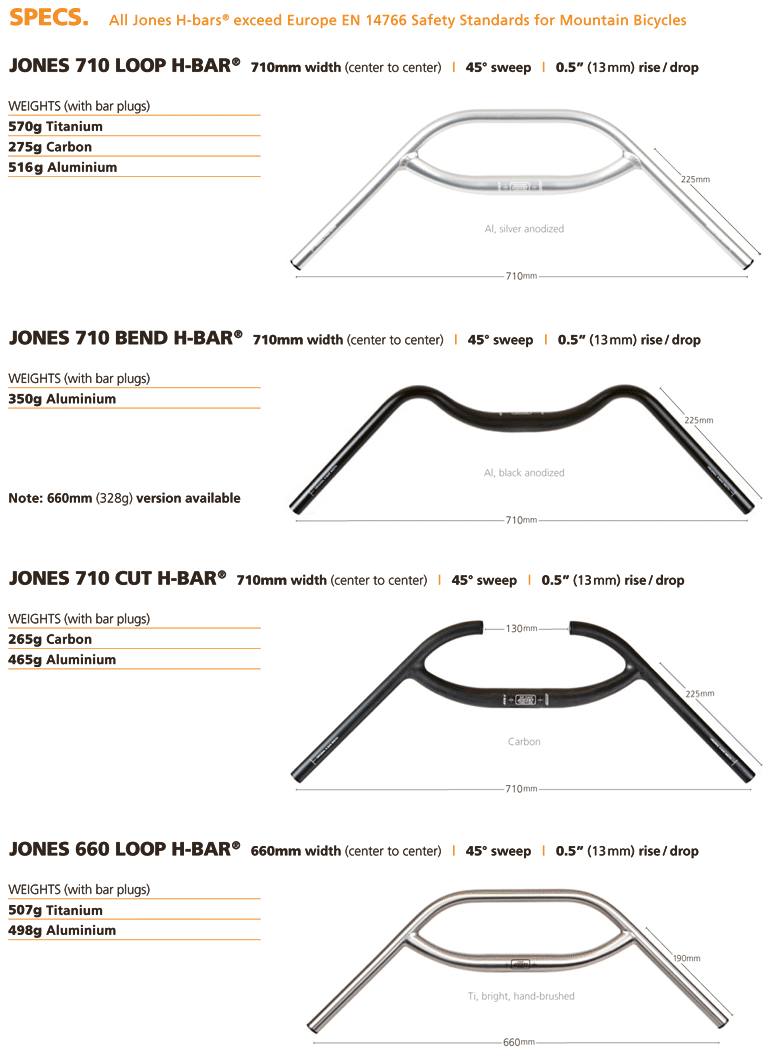 Titanium H-bar® construction
TIG welded, 3AL-2.5V Seamless Titanium. The cross tube is tapered and butted with a 31.8 mm clamp area. It tapers to a 7/8" oval where it meets and is welded to the 7/8" grip tubes. The tubes have different wall thickness to optimize strength and weight. The bars are etched with Jones logo, stem positioning and 'trim to 660mm' guides.
Aluminum H-bar® construction
TIG Welded 6066 aluminium. The cross tube is tapered and butted with a 31.8 mm clamp area. It tapers to a 7/8" oval where it meets and is welded to the 7/8" grip tubes. Both tubes are butted, to optimize strength and weight. The Bend H-bar isn't welded – it's just shaped (butted and tapered). All etched with Jones logo, stem positioning and 'trim to 660mm' guides.

Carbon H-bar® construction
This is hand-laid carbon weave, layered appropriately then moulded. Unidirectional carbon fibre, matt finish, with an additional coating on the stem area to assist grip. Marked with Jones logo, stem positioning and 'trim to 660mm' guides.


H-Bar® Manual
Our H-Bar®manual has detailed installation and setup instructions as well as warranty and inspection information. Checkl it out here!

Grips
Currently we have two types of grips that are designed specifically for the H-Bars. Our new Jones H-Grips are made from EVA foam, are extremely lightweight, and don't get slippery when your hands are wet. They also include larger barplugs to help protect the end of the grip when the bar end hits the ground. The H-Grip is sized to fit the 710mm H-Bar, but can be cut down to fit the 660mm version. We also have custom length ESI Silicon grips made for both the 710 and 660mm H-bars for those who prefer the feel of silicon. The 710mm H-bars need a 8.25" length, the 660's 6.75" – both are available in the store (in Chunky and Extra Chunky thicknesses).
Thomson X4 stem (special price when purchased with an H-Bar)
If you need a new stem or a different size (length) with your new H-bar, the Thomson X4 is a very good choice.
---
How to buy:

Visit the store to buy H-bars. You can also pre-order any bars due in and request an email alert when stock becomes available or is imminent. For international or Local Bike Shop purchases please visit the Dealers page to see if there's one in your area or country.